It's that time of year again when I pick out my few favorite fitness/health related items.    Below are a few items that I have been loving this past year that would make great gifts for fitness minded family or friends or even yourself!
Mini Bands
I am loving these right now.  They are super small, easy to use and versatile.  I have been using the bands myself and with my clients but I am also traveling with them now.  Upper body weight work is fairly easy with push-ups, dips and a million plank variations but it can be hard to challenge the lower body without at least some type of weight equipment.  Enter mini bands.  You can work hips, glutes, adductors, abductors and more.  You can even use these with plyometrics. There is an entire assortment available on Amazon here and the are inexpensive.   I will be doing a quick video on a few exercises you can do with these so be on the lookout on my Facebook or IG page!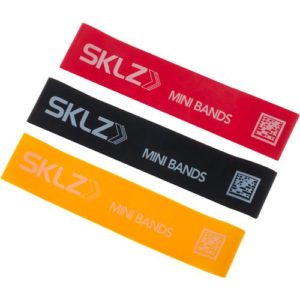 2. EzPz Mat
Okay, so let's be honest, this is really a gift to yourself.  You can pretend it is for your baby/toddler but I just bought this and am pretty sure I will like it more than Madelynn. Madelynn is in the stage of purposely dropping EVERYTHING first onto her highchair tray from her bowl and plate and then generally on to the floor/in our dog's mouth.   Or instead of her signing that she is 'all done' with her food she basically windshield wipes her tray so that all the food goes pretty much flying.  Caleb thinks it is hilarious.  Needless to say meal time is awesome and not messy at all. Then I found the EzPz Mat.  I just came across these a few weeks ago at a charity event I attended and am already in love.  I just ordered the mat and cannot wait to use it and travel with it.   They stick right on to the highchair or table and are super easy to clean!  I will also be traveling with this.  You can find them here.
3.  Monthly Music Subscription
I used to spend A LOT of money on purchasing and downloading music.    Then some genius invented music rental services.  I now spend about $10/month for unlimited music.  You can literally find pretty much any song of any artist on most music rental services.  I also have playlists for the kids to listen to in the car.   To justify this ongoing purchase,  🙂 research also shows that "that synchronous music tends to drive exercise intensity (i.e., the faster the beat, the higher the intensity). Researchers also clearly identified the effect of increased arousal related to the tempo of music, thereby making intense exercise seem less stressful."  Many subscriptions let multiple devices be on one account and you can follow your friends if you like their music tastes.   This is such a great way to constantly update your music without spending tons of money or time downloading and hopefully keep you motivated at the gym.
4.  Essential Oils
Okay, I know I had this one on here last year BUT I found some new ones this year that I cannot live without.  This past year, I started using a roller (pre-mixed and already diluted formula) for my headaches, a new digestive enzyme that is a must for upset stomachs and this sweet little magic sleeping oil called Vetiver.  There are still so many out there that I have to learn but these are my current favorites.  And though I hate crafts I have been very 'Pinteresty' lately making my  own lotion, astringent, sugar scrubs and more.   Contact me for more info or you can sign up for Young Livings awesome wholesale program and always get 24% off!  Get more info here.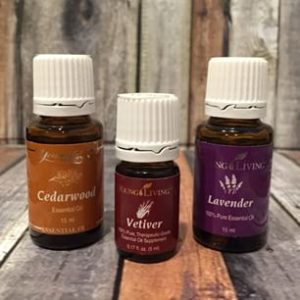 This is my current favorite sleeping combo for both Caleb and I.
5.  Compressions Socks
I was pretty skeptical when compression socks first became popular to assist with running and recovery.  However, I am a converted user now.   I actually bought these when I was pregnant and having the worst leg cramps that I could not sleep.  My husband first brought me home some compression stockings from the hospital he works at which is often given to patients who need help with circulation (diabetics, blood clots etc.)  However, I figured if I was going to wear these I might as well buy a decent (and stylish) pair I could use after my pregnancy was over.  I now use them for any runs over about 3 miles and think they really make a difference.    You also look like a pretty serious runner when wearing these 🙂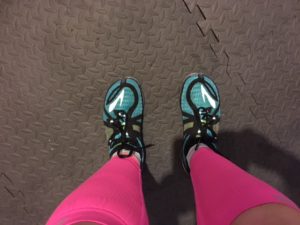 6.  Kitchen Gadgets
I am actually not that into gadgets but wanted to share my top few favorite kitchen tools that make my life as a healthy busy mom and cook easier.  I will say my #1 tool is a decent set of knives but beyond that the following make my life in the kitchen a easier.
a. Crockpot- you literally dump everything in and press on.  Need I say more?   You can get cheap ones or really fancy ones.  Either way, this is a must have.
b. Zoodler- this fun tool turns zucchini and other vegetables into noodle like strips.  We eat zucchini noodles with sausage and marinara very frequently in my house.   Caleb likes to help make them into noodles and everyone will eat their veggies this way.  Here is the one I have.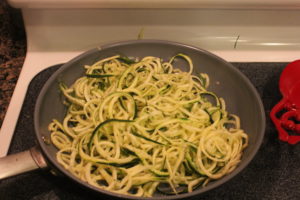 c. NutriBullet- any type of high powered blender will work, I just currently own a NutriBullet and like it due its power and size.   I make protein/veggie smoothies for myself and the kids frequently.
What tools/equipment have you been loving this past year?  I would love to hear other ideas.
I hope you all have a very merry and joyous holidays with friends and family!  XOXO