January Jumpstart
 

January 8th-February 4th
A 4-week nutrition, fitness and mindset program to jump start your health! Workouts, nutrition education, recipes and private coaching to get you on the right track for 2018!
What is included in the program?

 
Fitness
You will receive 3 workouts each week.  Workouts will include a strength workout with dumbbells,  a metabolic conditioning workout and body weight only workouts.  All workouts are meant to be less than 30 minutes and challenging for a variety of levels.   You will also receive a suggested workout calendar for other days of the week.
Nutrition
Each week you will receive a nutrition lesson via email as well as homework/challenge for you to implement during the week.  You will also receive 3 (1 breakfast, 1 lunch and 1 dinner) easy, healthy and fast recipes!
Mindset
Sara will be also sending mindset education on how to overcome obstacles and setbacks!
Accountability
Upon purchase you will also be invited to a intimate private Facebook group with others in the program for support and accountability.
Private Coaching/Full Email Support
Sara will be coaching at least once a day in the private FB group to answer any questions about fitness, nutrition and more.  If you do not have social media, you can contact Sara via email throughout the program!
The average cost of working with a trainer one time a week is $65. This often does not include access to the trainer beyond the session or nutrition support! This entire program, with high access to Sara, costs less than $2/day! Your health is worth it. 
This is not a quick fix program.  This is an all encompassing program that includes the three most important components for body change; fitness, nutrition and mindset.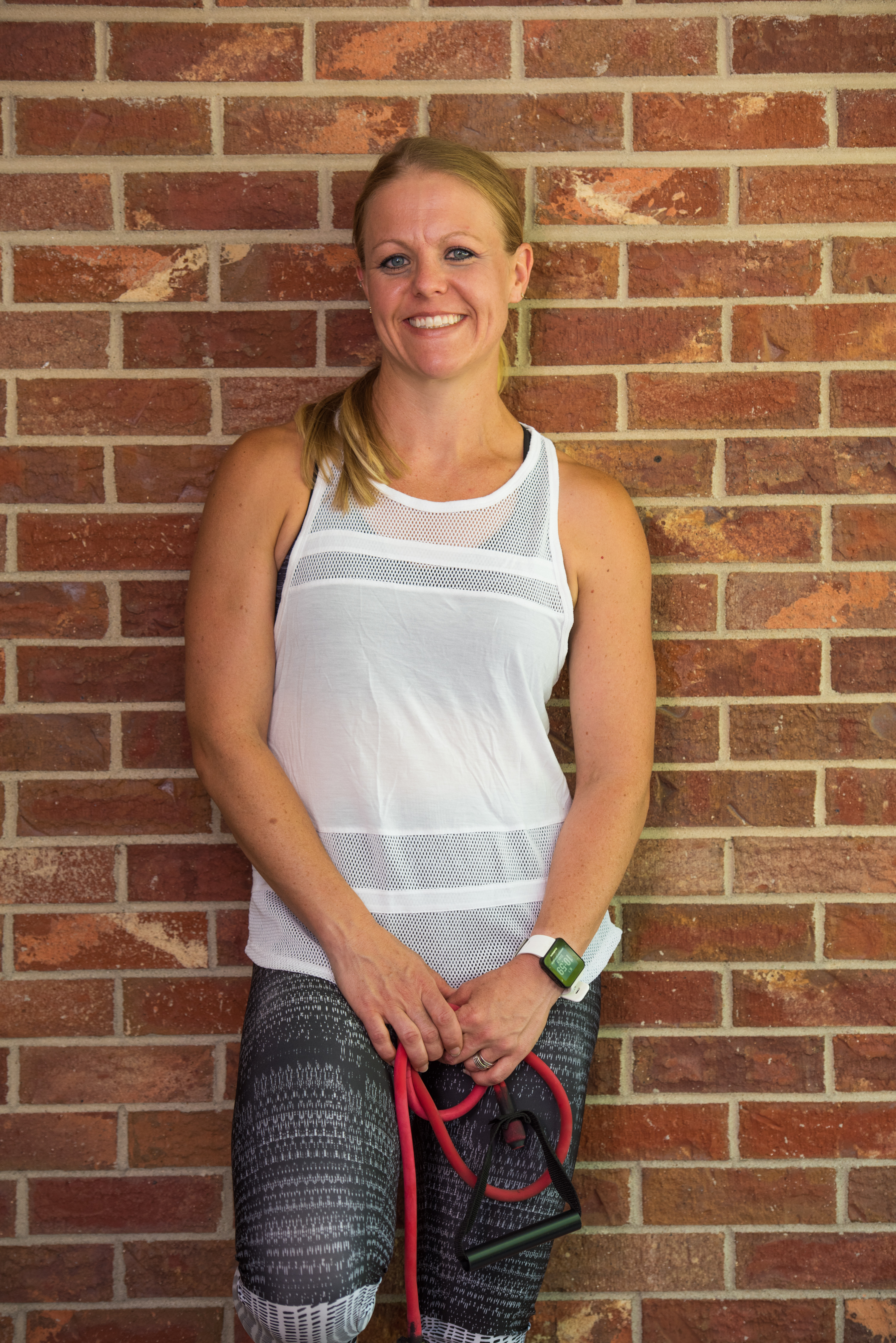 Sara Lynn Baker, MS, CSCS
Owner | Certified Strength and Conditioning Coach
My life changed 4 1/2 years ago when I became a mom.  Though I know fitness and nutrition would always be a priority for me, I learned that I needed workouts and a nutrition plan that would take much less time, energy and effort but still give me the results that I wanted.  I learned how to work harder and smarter in my workouts, found a nutrition plan that worked for me and changed my mindset, which led to so much less stress when it came to my food and exercise.   
My goal is to educate other moms on how to fit in challenging, fast and enjoyable exercise as well as healthy eating habits for the entire family. 
I have completed all of Sara's fitness and nutrition challenges over the last few years and have purchased both her recipe and workout e-book. Sara is a standout among other fitness professionals with a similar platform because she is well educated and down to earth.  She is not just looking into the next fad but rather uses research and personal experience to back-up her advice.  If you are looking for a long-term approach to your health and fitness, sprinkled with humor and helpful, everyday tips, you will love Sara's programs. Rachelle, mom of 2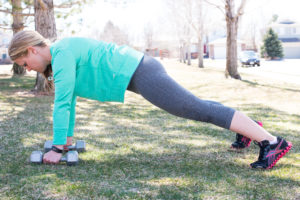 Sara is my go-to resource for anything fitness or nutrition. As a busy mom who doesn't have time to spend hours in the gym or in the kitchen, I know Sara has my back. Her recipes are family friendly and have become some of my kids' favorites. The workouts she gives me are always quick but super effective. Sara really gets moms and knows how to help me maximize my time while still achieving my personal fitness goals. Hands down some of the best coaching I've had!
Wendy, mom of 3
What if I do not have access to a gym?
You do not need a gym membership but will need access to dumbbells to complete most of the workouts.  4 of the 12 workouts will be body weight only and can be done anywhere.
What results can I expect from this program?
Results are obviously individual and based on your goals and effort.  However, Sara wants you to reach your goals no matter what you are trying to acheive. This is why Sara is offering coaching throughout the entire program. Sara will be giving you the tools, education and coaching to help you reach your goals whether it be to get stronger, leaner, lose weight, feel great or to learn what works for your body!
How is the program delivered?
Upon purchase you will receive a confirmation email. You will then receive all details and access to the program on January 5th so that you have a few days to prepare before the program officially starts on January 8th. Nutrition and mindset education will be delivered via weekly emails.  You will be sent links to the workouts and recipes and all daily coaching will be done via the private Facebook group.  If you do not receive an email, please check your spam!
What topics will be included in the nutrition education?
Week 1: Should I count calories?
Week 2: Pre- and post-workout nutrition for optimizing results
Week 3: What should I do if I am not seeing any results?
Week 4: Beyond food: The importance of sleep and stress management
Why is there no meal plan given with this program?
Sara does not believe in meal plans for long term success.  Though this program is meant to get your year off on the right track, Sara hopes to keep you motivated and educated long after the program has ended.  Sara wants to teach others how to find an eating plan that works for them and therefore there is no one size fits all eating plan.  Sara will be giving nutrition education and meal ideas throughout the program.  Sara's ultimate goal is for you to find both an exercise and nutrition program that is enjoyable, sustainable and gives you the results you want!
What if I am not able to complete some of the higher-intensity exercises?
Sara does not advocate working out through pain and you should consult a doctor before starting any new exercise program.  If an exercise hurts or does not feel right, please do not do it. Only you know your body best. There are plenty of modifications that can be made so please feel free to modify as you see fit. You can always contact Sara via email or in the FB group to ask about modifications.
Do I need to buy any special supplments for this program?
NO!  Sara does not think you need any supplements to get body change results.  Sara can make recommendations on the few supplements she takes and likes but you can change your body with whole real food.
What if I have questions throughout the program?
There will be a private Facebook group throughout the program.  Research shows that you are more successful in reaching goals when you have others to support you and hold you accountable.  Sara will also be offering coaching in this group throughout the month for no additional charge!   Sara encourages you to ask as many questions as needed throughout the program so that you can be successful!
This program is only on sale until January 5th at midnight! 
 DISCLAIMER:Please check with your doctor before starting any exercise program. You understand and agree that physical exercise is an inherently hazardous and dangerous activity that can result in harm, loss, damage, personal injuries or death.  You understand that your involvement in the Activities is entirely voluntary.  S3 Fitness, LLC, Healthy Baby Fit Mom and Sara Baker assume no risk for your voluntary participation in this program.   Please visit http://saralynnbaker.com/e-book-disclaimer/ to read the full e-book disclaimer.