January Jumpstart Workouts and Recipes
Please note that this calendar is designed if you are working out 5 days a week which I know is not possible for many, so I have given suggestions below based on how many days a week you will be able to commit to the program.
5 days: 3 x Met Con Workouts (given to you), 1 x  45 min steady state choice cardio or HIIT cardio, 1 day of restorative (yoga, walking, easy swimming)
4 days: 2 x Met Con Workouts, 1 x 45 min steady state cardio, 1 day of restorative
3 days: 2 x Met Con Workouts, 1 x 45 min steady state cardio
Workout Calendar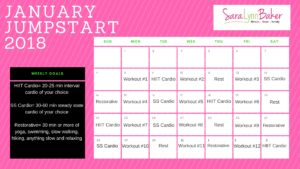 Click on the calendar to enlarge and/or print or download.
All workouts for the January Jumpstart program can be found below.   They will be uploaded every week.  Please do not hesitate to contact Sara with any questions.
Workouts
Nutrition
Though no meal plan is given, please find Meal Ideas below.   When putting together a meal, try to incorporate a protein, fat and carbohydrate in every meal as they each have a specific purpose in our bodies.  Remember, your nutrition should be based on your goal.  If fat loss/weight loss is your goal, a higher protein, moderate fat and lower in carbohydrate tends to work well for people.  If performance is your goal, carbohydrates can be increased.
Recipes