A lot of women I talk to and have trained talk about their pre-baby body and their post-baby body.  I have also thought of my body in these terms.  Your body is different.  For me, I know my hips are a bit wider and I honestly think my rib cage expanded a bit unless maybe I was just into really short workout tops before kids as about half my tops seemed to be crop tops after having Caleb :).  I will also probably never have a super flat stomach again (well, without being very restrictive on my diet and never having a glass of wine again, which we all know is never going to happen).  My body looks like I had 2 children which I am very proud of.  Pregnancy and birth are traumatic on your body, beautiful, but still fairly traumatic in terms of what your body goes through in a relatively short time period.
But often we hear about the negative side of post-baby bodies but what about the positive?  Pregnancy can actually benefit your body in many ways. You can become even stronger and perform better athletically after having children.  The body is always constantly amazing me.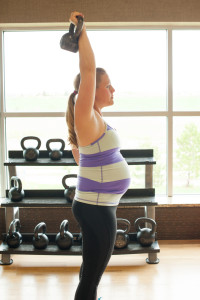 We all know that exercise is good for our body.  It is good for your heart, lungs, muscles etc. By stressing your body with exercise, your body becomes stronger. Pregnancy actually has a similar effect on the body that exercise produces in a non-pregnant exercising individual.
These adaptations are induced by the hormonal signals during pregnancy vs. the actual exercise in a non-pregnant women.  These adaptations include increases in the volume of blood in circulation, the skin blood flow response, the size of the heart chambers, the volume of blood pumped each beat and the delivery of oxygen to the tissues.
So yes, just being pregnant is kind of like following an exercise routine!  Score!  But of course, I would never recommend to not exercise during pregnancy (unless doctor recommended) just because you are already getting these natural adaptions. By exercising during your pregnancy can reap even more benefits!
If you are not pregnant and exercising consistently and then become pregnant and continue to exercise, these adaptions are additive! , Dr. James Clapp, maternal exercise researcher and obstetrician, states in his book, Exercising During Pregnancy,  "women who exercise regularly during pregnancy have more circulatory reserve, which improves their ability to deal with both anticipated (exercise, work) and unanticipated circulatory stress such as hemorrhage, trauma, anesthesia and so forth."  Though exercise during pregnancy might seem like more work with the extra weight and other changes, our body can actually deal with the stress better than a non-pregnant person.
Because pregnancy enhances left ventricular volumes, the amount of blood pumped by each beat of the heart is 30-50 percent greater than of a sedentary women.  Blood volume helps contribute oxygen to your working muscles.  The more blood volume you have, the more oxygen you have available which actually makes exercise a bit easier!    I know exercise does not always feel easy when pregnant, but you are actually a crazy efficient machine when pregnant.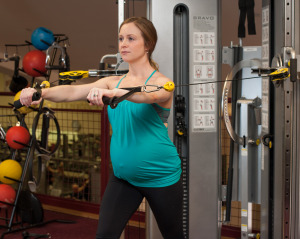 Dr. Clapp continues, "The same is true for competitive performance and maximal oxygen update after pregnancy, suggesting that the combination of exercise and pregnancy has a greater training effect than that produced by training alone."  This basically stating that exercising while pregnant can have more significant training effects than exercising while not pregnant.
"Many anecdotes from sports support the idea that the competitive performance of national-class athletes who continue to train during and after pregnancy is enhanced after having a baby. This is thought to be due to the changes in blood volume and hormonal levels during pregnancy."   YES! Having babies can improve performance.  In more awesome news, these effects can last up to one year postpartum! "The increases in cardiac volumes and decreased vascular resistance persist to come degree for at least one year postpartum and maximal aerobic capacity increases. "
In my own non-scientific study, I often look at the fastest race times of the different events I participate in (triathlons, road races, etc.) and I often note that the fastest times are usually women in their 30's vs. 20's unlike many of the male fastest times which the opposite seems to be true.  Obviously, I cannot say if these women have all had children but it is an assumption that many have and I often think of the studies that show that many women improve athletically after pregnancy.    Another factor that I think has proven true for both my self and other athletes as they age, is that they often get smarter with recovery, training and knowing what works for their bodies.  For me, I tend to take care of myself a lot better than I did 10 years ago.  I know the importance of taking days off, proper sleep, nutrition, stress management.   I cannot drink 3-4 nights a week and still perform well.  I cannot overtrain and still perform well.  I cannot forget to stretch and not perform restorative workouts and perform well.    I eat a lot better than I did 10 years ago and I am generally just kinder to my body.   So I definitely think I am a better athlete than I was 10 years ago for numerous reasons.
There are other benefits to your body after pregnancy.    Here are a few non-athletic benefits that are still quite noteworthy:
-Pregnancy has been shown to help reduce the risk of both breast and ovarian cancers.  The effects are greater the younger you started having children and with every pregnancy.    One theory of why this might be the case is that ovulation stops during pregnancy and women who ovulate less are less likely to develop breast or ovarian cancer.  Another theory is that breast tissue that never goes through pregnancy may be more prone to cancer.
-Breastfeeding has also been shown to lower risk of breast cancer due to the hormonal changes during lactation.  These changes cause a reduction in lifetime exposure to hormones like estrogen which can promote breast cancer cell growth.   Shedding of breast tissue while breastfeeding helps remove cells with potential DNA damage also helping reduce risk.
-Many women report that their periods are less painful after the birth of their baby.  Some believe that the stretching to the uterus during delivery might be the reasoning behind this.
So though I think it is often so easy to focus on the negative effects of pregnancy on our bodies but there are some really amazing changes that happen for the better.  Have you noticed any positive changes since having kids?  As always, I would love to hear from you!
XOXO
Sara
Resources:
Exercising During Pregnancy,  Dr. James Clapp
https://www.mdanderson.org/publications/focused-on-health/october-2014/breastfeeding-breast-cancer-prevention.html
Parents.com