Last weekend I accompolished one of my goals this year of finishing a multi-day bike ride and one of my bucket list to-dos with a century ride in one day.  It was hard, awesome, challenging and amazing.  Here are a few things I learned while on the bike for over 12 hours over 3 days.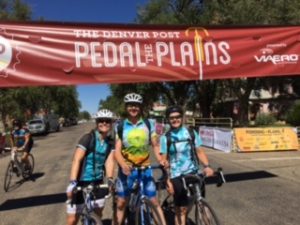 At the start line!
The Human Body is Freakin RESILIENT
As I mentioned in a post last month, I trained for this ride in a minimal amount of time.  In a perfect world, I would have trained A LOT more but with 2 littles and a full time job plus side jobs, it was hard to find the time.  I did what I could.  However, though I am in good overall shape, you do have to train for specificity.  If you want to complete a long bike ride, you need to ride a bike for a long time.  I rode as many times and as long as I could that my current life and schedule allowed.   As I mentioned in my email last week to my subscribers (if you are not on it, add yourself here) I was freakin scared to do this.  Did I think I could do it?  Maybe.  I really did not know what to expect.  The longest I have ever ridden was 64 miles and that was 5 years ago, pre-babies.  I had some major apprehension.  However, the human body is AMAZING.  I was one of the YOUNGEST people out there!  The oldest was 89 years old!  Are you kidding?  I saw people of all ages, sizes and abilities completing this ride.  Whenever my legs were burning, my back was aching, I would see someone else pulling their 6 year old in a bike trailer or someone at least twice my age continuing to pedal.  It was inspiring.  I had to believe that I could do it.  I think our minds give out before our bodies, so I had to convince myself that I could do this and I did.
2. Don't Be Afraid to Ask for Help
After the first day, which was the shortest distance of 25 miles, I texted my husband (who is a Physician Assistant) to tell him we had made it safely to the next town.  He wrote back. "Awesome. We are on lockdown."  Um, what? Excuse me?  I called him, which alone gave me some reassurance he was not in immediate danger but I find out that his medical office building and the adjacent hospital was on lockdown due to possibly an active shooter.  What? I am 4 hours away and was trying my best not to freak out.   Though I knew he was safe at the moment, my mind started racing as I started searching online for news of what was going on.  Though my number one concern was for my husband's safety, I did also need to figure out my kiddo pick-up situation since he was planning on picking them up and had no idea how long he was going to be there.   I asked my husband if I should figure out something for the kids which when I think about it was ridiculous even asking this since he was currently being held in his office for his own safety so the answer was yes. I am not great at asking for help.  I still sometimes have the attitude of "I can do it all!"  Which we all know is ridiculous and impossible but I often pride myself on how much I can do (which we also know that if we try to do too much, you are not doing anything well).   So I started calling my dad and neighbors for help but I was hesitant.  My dad lived 30 min away, my neighbor had plans. WTF?  My husband was locked down with the SWAT team and I am worried about ruining my neighbors plans? No one thought twice they figured it out.  They helped, just as I would have done for my neighbors or family.   It truly takes a village.
3. It is Okay to Go Slow
I do not anything slow.  🙂  I talk fast, I move fast, I think fast.  I feel like I am always rushing around.   I compete in races which you are not supposed to go slow. However, this was not a race, it was a ride.   And when you are going uphill in 80 plus degree weather at mile 77 on day two, you are not gong to go fast.  You are going to go 10 miles an hour which actually feels like 2 miles an hour and that is exactly what I needed to do.  I needed to go slow.  I needed to slow down.  I needed my body, my mind, my thoughts to slow down.  This is so challenging for me, to not want to just to get to the finish line as fast as possible, but to enjoy it however, painful or challenging it was for me.
4.  Just Keep Pedaling
There were SO many times on Saturday and then again on Sunday that I wanted to stop pedaling.  I was in pain, my legs hurt, my back hurt, my neck hurt.    I know I wanted to finish but there were many times I wanted to quit but I didn't.  After every rest stop, I got back on the bike (as painful as it was) and I kept pedaling.  During the century ride on Saturday there was a section of the ride that was a bit of an incline, with a headwind and it was hot.  I had already ridden 72 miles, I did not want to do anymore.  However, I just put my head down in the wind and kept pedaling. The past year has been one of the most difficult years for my family for numerous reasons and there were many times that I felt like I wanted to stop and quit.   Stop dealing with tough situations, stop having difficult conversations but I didn't because my family is the most important thing in the world to me.  I keep going, I keep pedaling no matter how painful it is.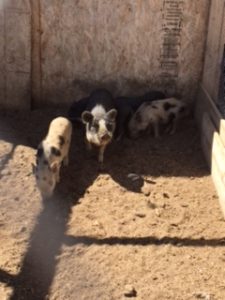 We saw tons of animals during our ride.
5. I Found My Gratitude
I know I have  A LOT to be grateful for but coming off a very hard and emotional week prior to this ride I was having a hard time finding my gratitude.  I am so thankful for my healthy children, my amazing husband and family and great friends but even though I am grateful does not mean gratitude is always easy to find.  Yet, sitting on a bike for hours and hours with just my thoughts, cycling through my beautiful state, I found my gratitude.  I was and am thankful for my amazing family, beautiful children, supportive husband. I was thankful for the experience of the ride, thankful to the people who opened up their homes to us to give us a place to stay, grateful to the incredible volunteers and organizers, the adorable 4H kids who showed us their pigs and horses and goats at the rest stops, thankful to my sister and brother-in-law for encouraging me, thankful for the bond I have with my sister and to be able to share an experience like this and VERY thankful to my body who just barely a year ago gave birth and now was able to ride a bike for this distance,   I came home with an adjusted attitude and I am grateful for that.
When I walked in the house on Sunday evening with my medals around my neck (I wore them proudly)  my 3-year old son asked me, "Did you win the race, Mom?"  "Yes, baby, yes, I did.  I won my own race."